Remote Server Administration
Remote Server Administration is one of the key features of the VisualSVN Server and it is designed to give you precision control of your remote VisualSVN Server installations, while helping you avoid the drawbacks of managing servers with Remote Desktop.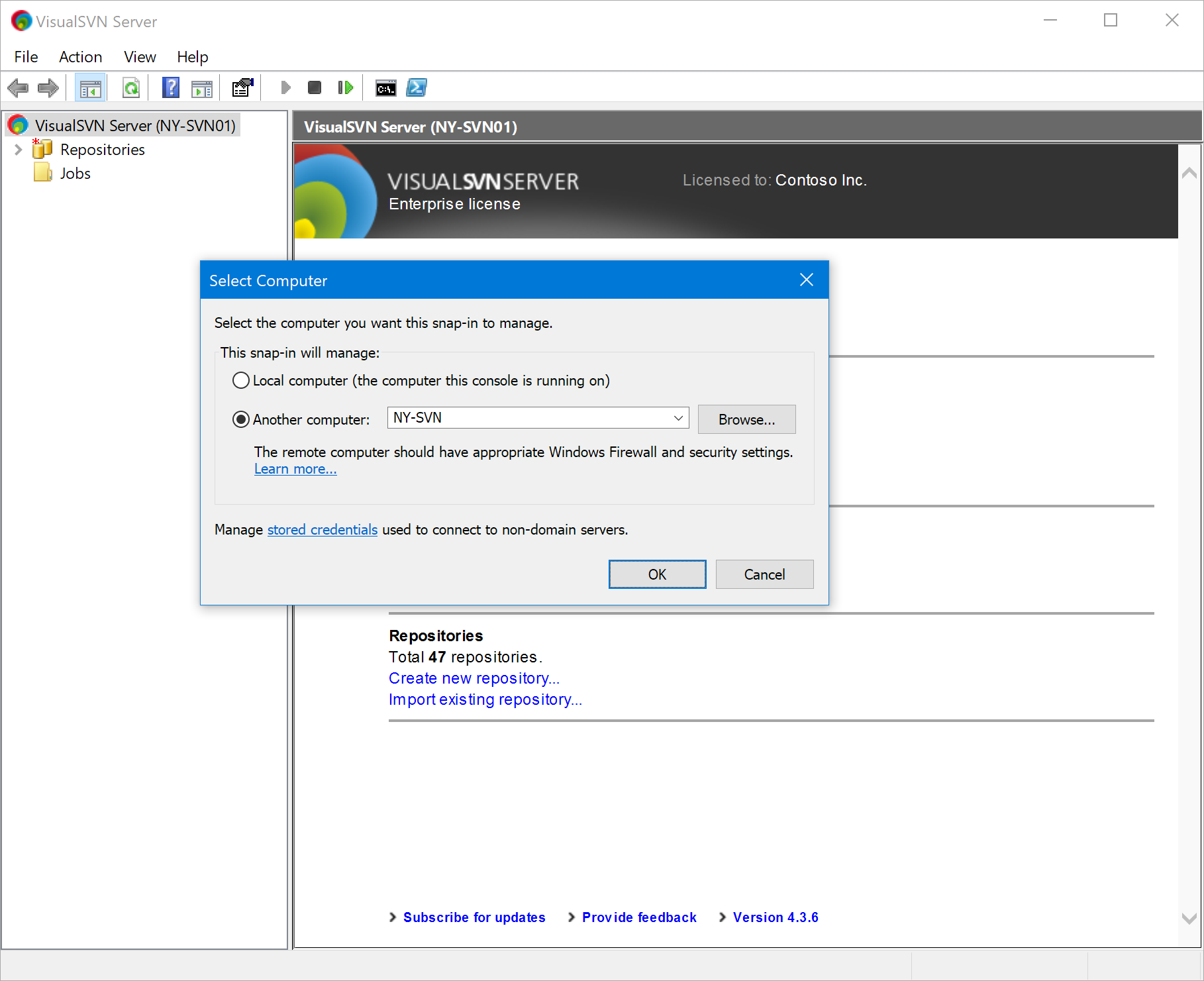 Remote Server Administration means you avoid the problems associated with Remote Desktop - giving you the flexibility to allow access to VisualSVN Server only while protecting other server applications, the ability to switch between several VisualSVN Server instances with ease, and enhanced performance over that achieved with Remote Desktop.
Overview
Remote Server Administration allows you to manage remote instances of VisualSVN Server with the same MMC snap-in that is used to manage the server locally.
Remote Server Administration is based on Windows Management Instrumentation technology which ensures stability, security and continual high-performance. With impersonation, all administrative actions are performed on the user's behalf, allowing you to audit all changes made to VisualSVN Server. You can also configure refined, customized permission levels if required.
Controlling server access
Remote Server Administration gives you the ability to grant permissions to manage VisualSVN Server while blocking access to manage other services such as IIS and SQL Server.
When you want to grant permission to a new administrator, you simply add them to the VisualSVN Server Admins group. However, you are not required to provide local administrator permission to users who are eligible to manage VisualSVN Server.
The user then has permission to manage VisualSVN Server, but not other applications (such as IIS and SQL) on the server. Remote Server Administration removes the need for Remote Desktop permissions in order to manage VisualSVN Server.
Managing VisualSVN Servers smoothly
If you've tried to work with several servers remotely using Remote Desktop you'll know that switching between servers is error-prone and inefficient.
With Remote Server Administration you can customize your management console, creating a single console that allows you to manage several VisualSVN Server instances as well as your entire Windows infrastructure.
Install VisualSVN Server on Windows Server Core
An additional benefit of Remote Server Administration is that you can install and manage VisualSVN Server on Windows Server Core.
Installing VisualSVN Server on Server Core saves resources (less disk space, less CPU time and less memory required) which delivers better virtualization. You also benefit from the decreased maintenance and management requirements and the reduced attack surface.
Getting started with Remote Server Administration
Setting up the Remote Server Administration is a matter of minutes. For the instructions, please see the article KB25: Configuring Remote Administration.