VisualSVN for Visual Studio
Professional and seamless Subversion integration.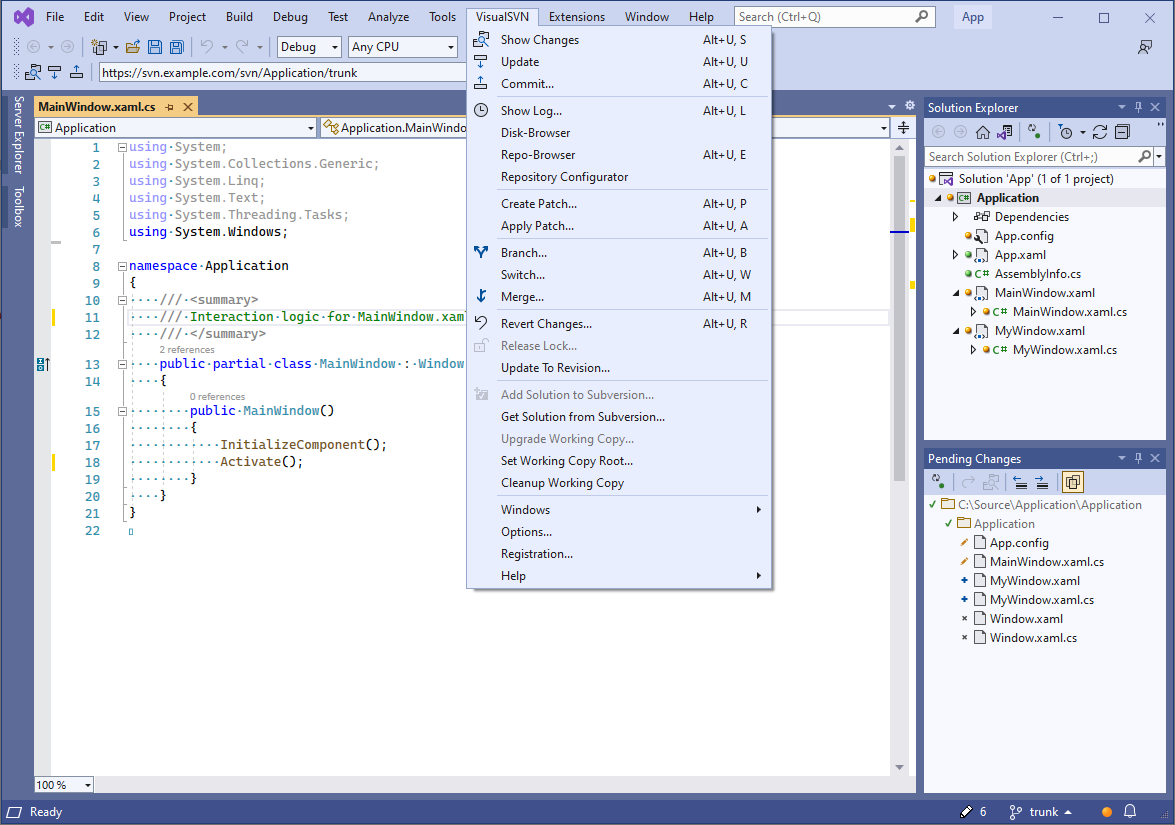 The professional grade Subversion integration
VisualSVN is a professional grade Subversion integration plug-in for Visual Studio.
Key benefits of VisualSVN are:
Unbeatable reliability: Visual Studio will never crash or hang because of VisualSVN.
Seamless integration: VisualSVN automatically handles added or renamed files and reflects these operations to Subversion.
Real-time status: VisualSVN carefully tracks and displays all the current changes made to your working copy.
Short learning curve: VisualSVN utilizes TortoiseSVN dialogs and provides a smart wizard to put your sources under Subversion.
VisualSVN is a five-time winner of Visual Studio Magazine Gold Readers Choice Award and it was recommended in the MSDN Magazine's Toolbox. VisualSVN has reached more than 1,000,000 downloads and it is currently used by thousands of companies around the world, including such Fortune 500 companies as Chevron, GlaxoSmithKline and Kroger.

Learn more
Out-of-process unmanaged code execution
All Subversion operations are performed out of the Visual Studio process. Common operations such as Commit or Update are performed using the TortoiseSVN dialogs. Other unmanaged code is executed in a pool of separate worker processes. This out-of-process model provides the proof that Visual Studio will never crash or hang because of VisualSVN.
Free Community License
VisualSVN Community License is a free of charge license that allows to use VisualSVN on any computer which is not a member of an Active Directory domain. Community License permits commercial use and is ideal for freelancers, students and hobbyists.
Learn more
Try VisualSVN for Visual Studio
Available for all versions of Microsoft Visual Studio.
Download